Arms Control Today, News in Brief, July-August, 2019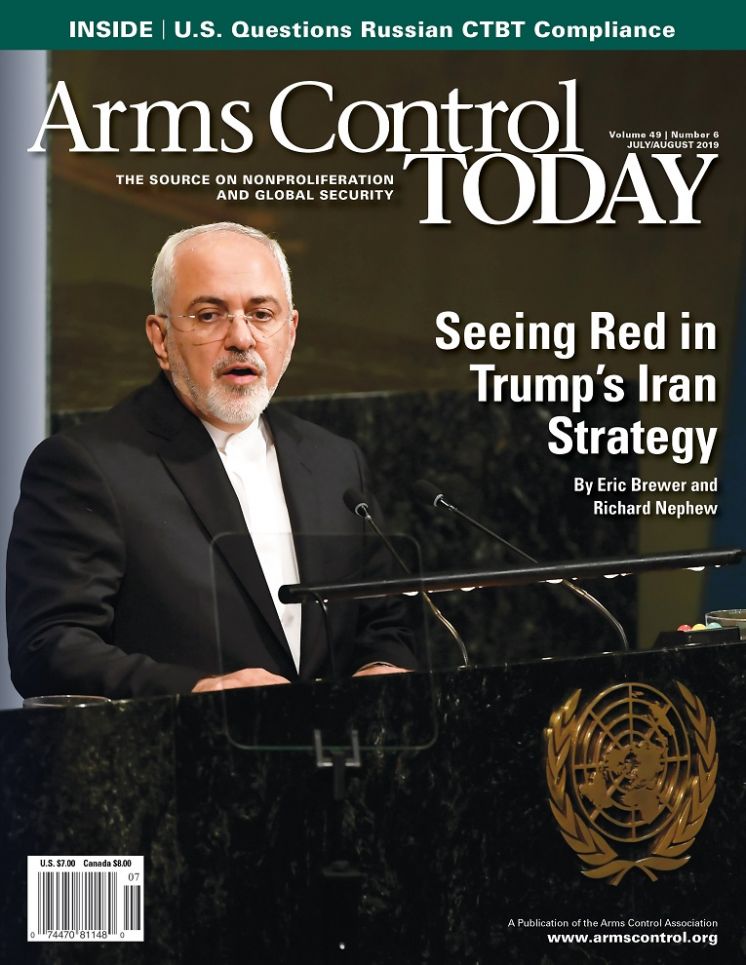 The publication of the News in Brief section of Arms Control Today magazine is a joint project of the Center for International Security and Policy and The Arms Control Association.
Saudi Nuclear Permissions Granted After Murder 
Two controversial authorizations for the transfer of nuclear information to Saudi Arabia were granted by the U.S. Department of Energy to private companies after the October 2018 murder of Jamal Khashoggi, a U.S. resident and commentator for The Washington Post, Sen. Tim Kaine (D-Va.) revealed June 4. (See ACT, May 2019.)
Kaine received the information after more than two months of requests and a direct appeal from Senate Foreign Relations Committee Chairman Jim Risch (R-Idaho) to the Energy Department for the approval dates of seven so-called Part 810 authorizations, particularly inquiring as to whether any authorizations occurred after the Khashoggi murder.
"The alarming realization that the Trump Administration signed off on sharing our nuclear know-how with the Saudi regime after it brutally murdered an American resident adds to a disturbing pattern of behavior," said Kaine.
Part 810 authorizations are routinely issued, especially when negotiations for a broader civil nuclear cooperation agreement with another country are ongoing, as is the case with Saudi Arabia.
The Trump administration's lack of transparency regarding those negotiations, however, combined with restricting access to the authorizations, has caused growing concern in Congress. Many members of Congress and nonproliferation experts are also concerned about Saudi actions in the Middle East, including in the war in Yemen, and Saudi leaders' statements about wanting nuclear weapons if Iran were ever to obtain them. – SHERVIN TAHERAN
U.S. Confirms Saudi Ballistic Missile Production 
U.S. intelligence agencies have told Congress that Saudi Arabia is developing a domestic ballistic missile production program with Chinese support, CNN reported June 5. The official confirmation followed open-source reporting in January that disturbed some members of Congress, who questioned if that information had been deliberately omitted from earlier Trump administration briefings. (See ACT, March 2019.)
Saudi Arabia has deployed Chinese-supplied ballistic missiles for decades, and Beijing has said that the missiles were modified to carry only non-nuclear explosives. In January, imagery analyses by the Middlebury Institute of International Studies at Monterey indicated that Saudi Arabia had expanded its al-Watah missile base, where the Chinese missiles were stored, to include a rocket-engine production and test facility. U.S. officials have now confirmed to Congress that the expansion in missile infrastructure and technology was facilitated through recent purchases from China. Saudi production of ballistic missiles would run counter to long-established U.S. policy to limit missile proliferation in the Middle East. – SHERVIN TAHERAN
Senate Confirms U.S. NPT Ambassador 
The U.S. Senate has confirmed Jeffrey Eberhardt, a career government official who has served at the Pentagon and most recently at the State Department, to serve as special representative of the president for nuclear nonproliferation. The June 20 confirmation put Eberhardt in place to support administration policy going into the 2020 review conference for the nuclear Nonproliferation Treaty (NPT), which will mark the 50th anniversary of the treaty's entry into force. His portfolio will cover many nonproliferation-related issues, including Iran and North Korea, as well as other treaty noncompliance allegations. Most recently, Eberhardt served as director of the State Department's Office of Multilateral and Nuclear Affairs in the Bureau of Arms Control, Verification and Compliance.
Regarding Iran, Eberhardt said during his Senate nomination hearing that "Iran's standing as a non-nuclear-weapon state-party to the NPT cannot be described as good." Reacting to that statement, Secretary of State Mike Pompeo said in a June 3 interview that he "did not want to comment on that." Andrea Thompson, the State Department's top arms control diplomat, initially tried to dodge answering the question in Senate testimony on May 15 before acknowledging that Eberhardt's statement was "correct" and "what we laid out in the [State Department arms control] compliance report." The 2019 compliance report, issued in April, expressed concern about Iran's nuclear ambitions, but offered no evidence at that time of Iranian noncompliance with its NPT obligations or with its commitments to the 2015 multilateral deal that curbed its nuclear activities. – SHERVIN TAHERAN