Director of the Center for International Security and Policy A. Akhmetov admitted to the Pugwash Committee of Kazakhstan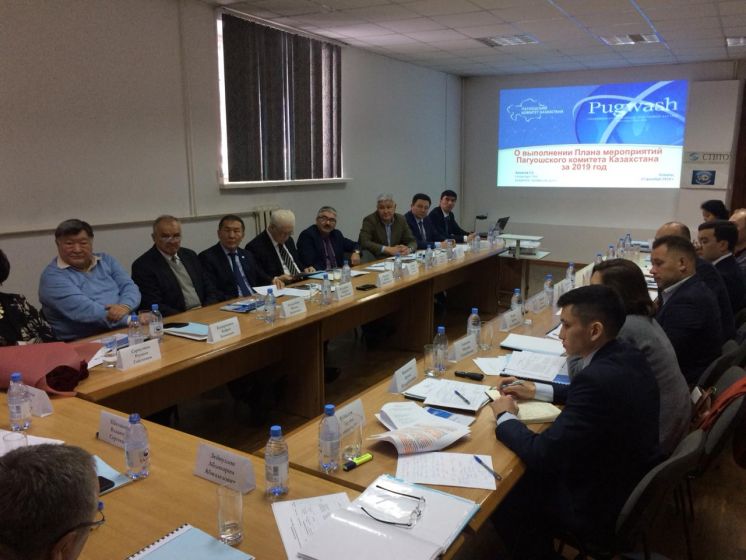 The third meeting of the Pugwash Committee of Kazakhstan at KAZNANS took place in Almaty on December 27th 2019.
The implementation of the Work Plan for 2019 was reviewed and the Work Plan for 2020 was approved during the work of the Committee. In particular, it is planned that the Kazakh delegation will participate in the 63rd International Pugwash Conference of Scientists, which will be held in March 1-5, 2020 in Doha.
Also, members of the Committee considered its reconstitution and included the director of the Center for International Security and Policy Alimzhan Akhmetov.
***
In July 1955, eleven internationally renowned scientists signed the Russell-Einstein Manifesto, which laid the foundations of the Pugwash Conferences on Science and World Affairs.
The movement's first conference took place in July 1957 in the village of Pugwash in the Canadian province of Nova Scotia.
In 1995, the Pugwash Movement was awarded the Nobel Peace Prize "for their efforts to diminish the part played by nuclear arms in international politics and, in the longer run, to eliminate such arms."
The National Pugwash Committee in Kazakhstan was established in 2017.
More details about the Pugwash movement can be found in the article by the director of the Center Alimzhan Akhmetov, "Pugwash movement: how world scientists have stood against nuclear war" written in August 2017 for the Astana Times on the eve of the Pugwash Conference in Kazakhstan.